While in Phnom Penh we stayed around Street 278, which is one of the best areas to hang out. There are a couple of really good vegetarian restaurants on this street, almost opposite each other.
ARTillery
ARTillery is one of the best places that we've had vegetarian and raw food in SE Asia, althought it's not 100% vegetarian. The menu has salads, soups, sandwiches, and a few other dishes, plus a selection of raw food items. The raw dishes include raw pizza, raw pasta, raw cheesecake, raw chocolate orange tort and energy bliss balls. They also have some daily specials. The raw cheesecake is awesome.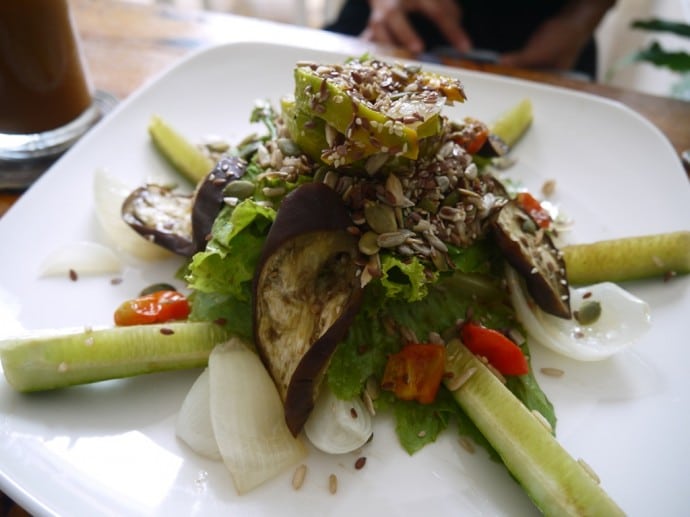 All the dishes at this restaurant are beautifully presented, and the ingredients seems to be chosen for maximum nutritional benefit. We ate here quite a few times and were never disappointed.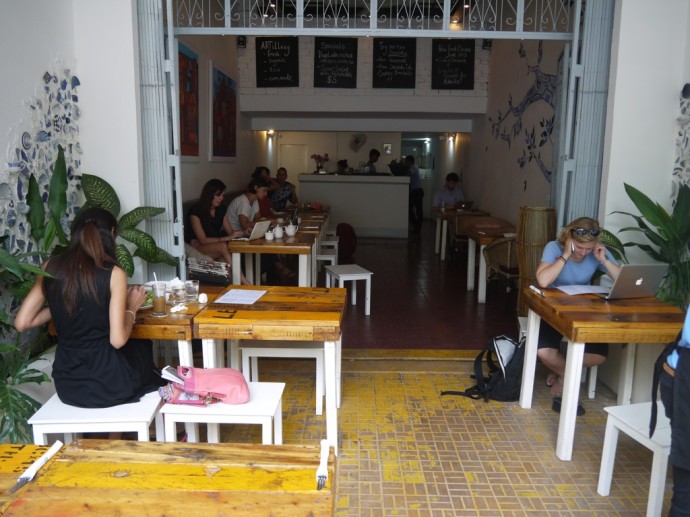 This restaurant is located on Street 278, and they also have another branch at Street 240½. It is incredibly popular with expats, and is usually quite full. Free wifi is available. Most main dishes cost around $4-5, which is very reasonable for the quality of food.
Address: No. 13, Street 278 (between Streets 57 & 63), Phnom Penh & Street 240½, Phnom Penh
Opening Hours: 07:30-18:00
Facebook: facebook.com/artillerycambodia
Cafe Soleil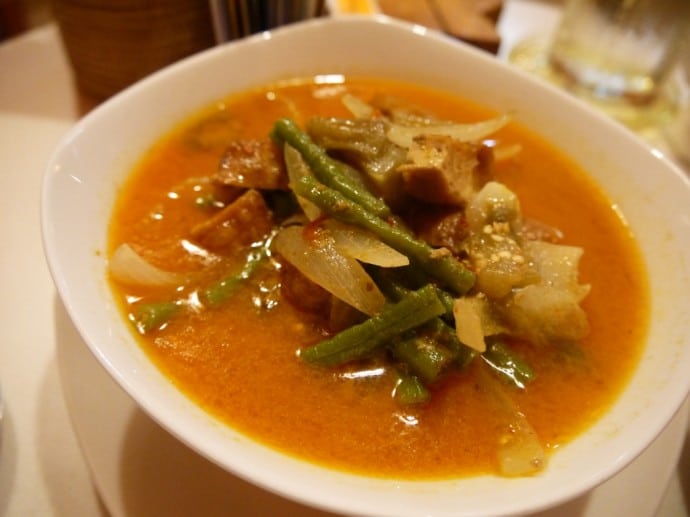 This is a great restaurant that's open early morning until late at night. So you can pop in for breakfast, lunch or dinner. There is a range of breakfast foods, pastries, Khmer food, Western food, soups, sandwiches, ice cream, desserts, and drinks, including beer and wine.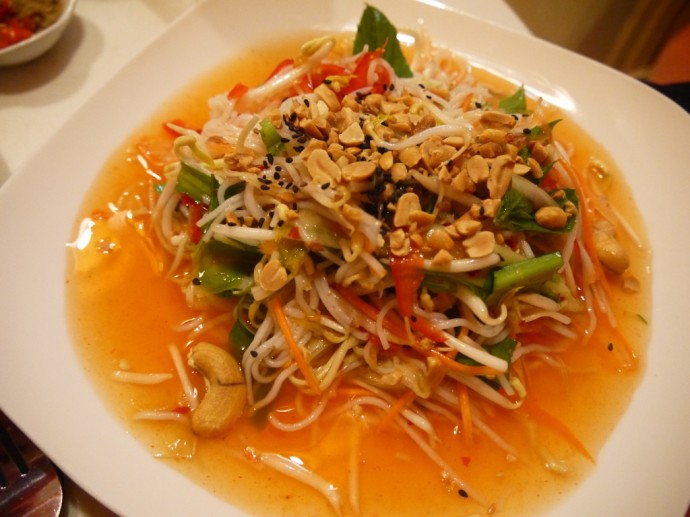 The main meals here range in price from $2-3, and are exceptionally good value for money. The staff are friendly and helpful, and most speak pretty good English. We ate here a few times and would highly recommend it. It has seating inside and out.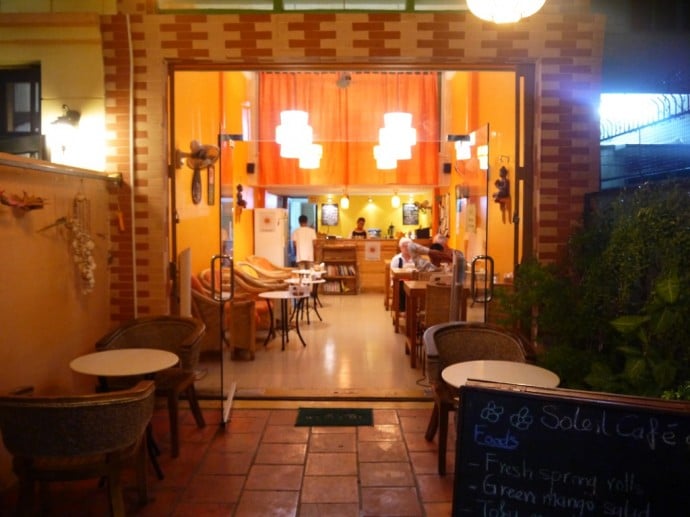 Address: No. 22DEo, Street 278, Phnom Penh (between Streets 57 & 63)
Opening Hours: 07:00-22:00
The Vegetarian
This is one of our favorite vegetarian restaurants in Phnom Penh. It's in the center of town on Street 19, just a few minutes walk from Independence Monument. It has quite an extensive menu, so we're looking forward to trying many of the dishes. On our first visit we had the Dry Indian Curry With Vegetarian Fish and the Vietnamese Pho. The curry was delicious, although it wasn't anything at all like an Indian curry, and wasn't dry either.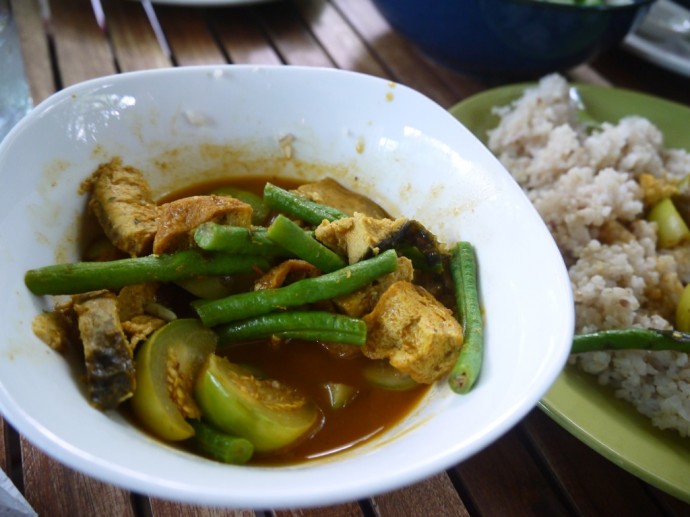 There is seating inside and out, with the outside seating area being quite cool because the area has lots of very tall bamboo that keeps the heat of the sun out.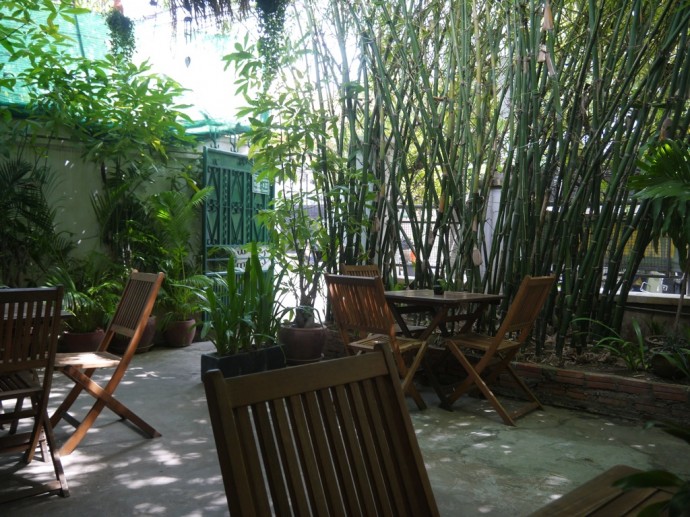 This restaurant is very easy to find. Just walk east from Independence Monument along Suramarit Boulevard, and then turn left into Street 19. The Vegetarian will be on your right hand side about 100-200 meters away.
Address: 158, Street 19 (off Suramarit Boulevard)
Opening Hours: 10:30-20:30 Mon-Sat, Closed Sun
K'NYAY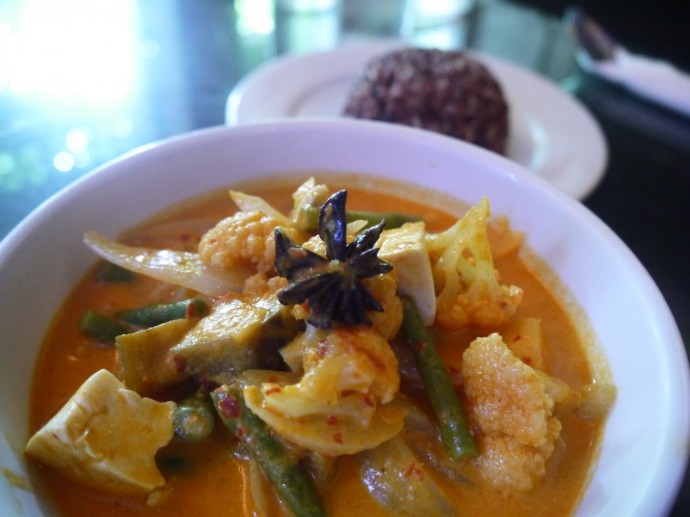 K'NYAY is a great little restaurant just a few minutes walk from Independence Monument, but you'll have to keep your eyes open when looking for it, as it's hidden at the end of a small lane. They serve mixture of Khmer and vegan food, and the vegan dishes are clearly marked on the menu.
On our first visit we opted for the Red Curry and Tom Yum Soup, although what's show on the menu as Tom Yum seems to be Tom Kha, as it is made with coconut milk.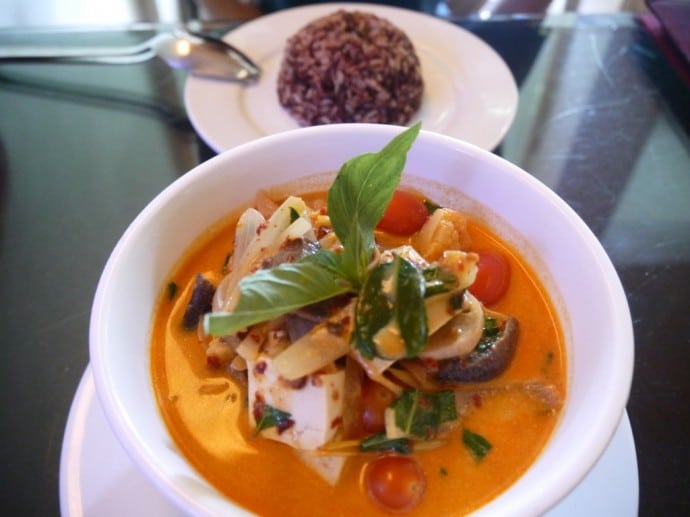 Both dishes were served with wild rice, although there is the option to have bread instead of rice.
Most of the main dishes on the menu are curries, but there was a fairly good choice of appetizers, including soups, salads, fritters, hummus, and spring rolls. Dessert choices include ice cream, sorbet, carrot cake, crepe, and baked banana. A wide range of drinks are also available.
The restaurant is at the end of a lane and is therefore quite peaceful.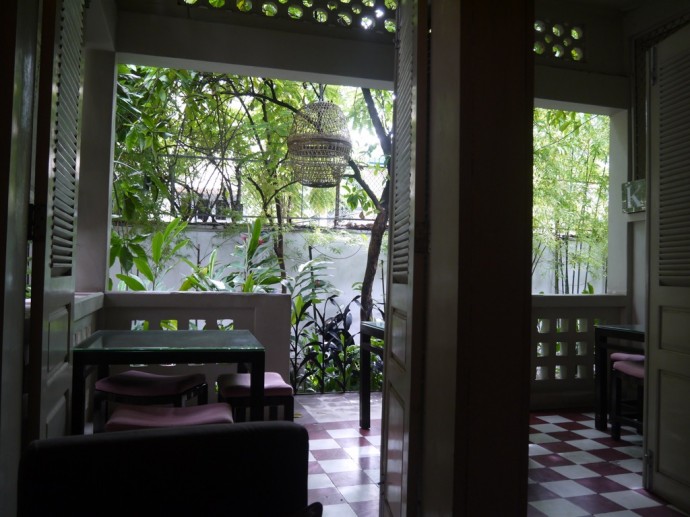 Address: 5K Suramarit Boulevard (Street 268) – walk east from Independence Monument, past Street 19, then look for the gate that has a large "K" on it.
Opening Hours: 12:00-21:00 Mon-Fri, 07:00-21:00 Sat, Closed Sun
Website: www.knyay.com
Other Vegetarian Restaurants In Phnom Penh
Phnom Penh has many other vegetarian restaurants, and you can find a good list at Happy Cow Phnom Penh.
Hotels In Phnom Penh
If you're looking for a good hotel in Phnom Penh, then click on the Agoda link below. We stayed at Amber House Hotel, Goldie Boutique Guest House, and HomeFeel CS Hotel.