Arriving at Denpasar airport, getting through immigration and traveling to Ubud is a fairly simple affair. For first time travelers to Bali, though, it can be a bit intimidating. For this reason, I'd like to walk you through how to get from Denpasar Airport to Ubud, Bali.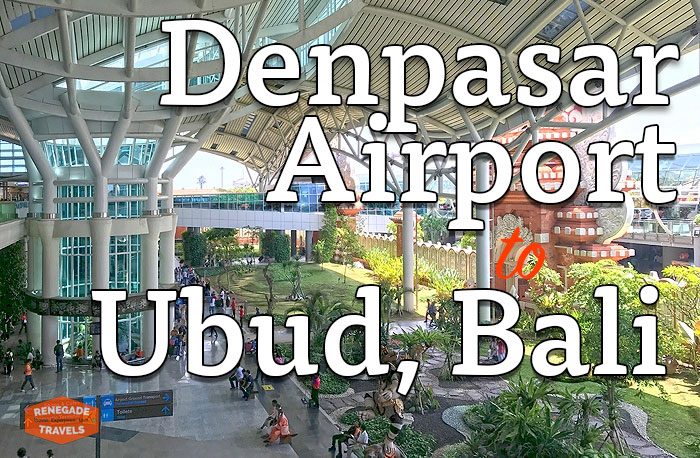 I've already talked at length about my travel costs in Bali, Indonesia, but the first step was getting from the airport to our destination. This includes going through customs, getting a visa, and finding transportation.
Allow me to share with you my experience from the moment we landed the plane.
Landing at Denpasar Airport
We arrived on an Air Asia flight from Singapore (before which I had taken a train from Bangkok to Singapore), and landed at around 8 pm in the evening. It was getting dark as we approached Bali, but just light enough to see a volcano that we passed over. How gorgeous!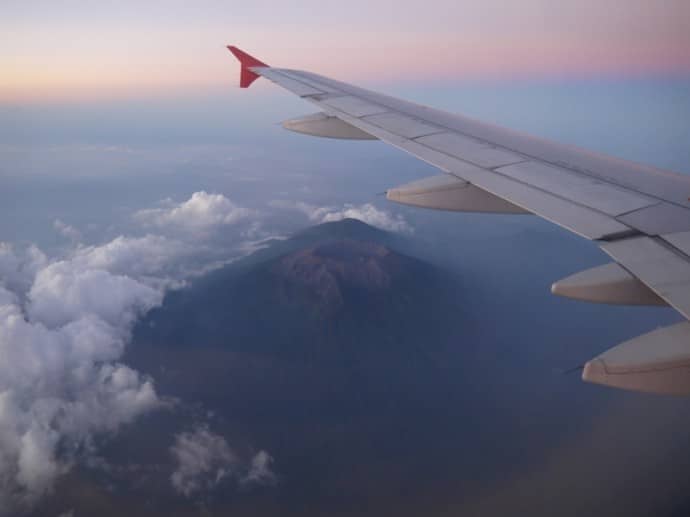 As a UK passport holder, the first thing I needed to do after landing was to get a visa on arrival. This is the case for citizens from the United States, Australia and over 60 other countries. Thankfully, you don't need to apply for the visa before you arrive.
If you're not sure, you can check your eligibility for Indonesia visas.
After you leave the plane and enter the arrivals area, you'll see the visa on arrivals booths straight in front of you. The cost is US$25, or the equivalent in another currency. They only take cash, so make sure you have enough on you.
You'll need to hand in your landing form as well, so also make sure that you've filled it in. Hand over the cash and landing form, and you'll be given a visa on arrival receipt.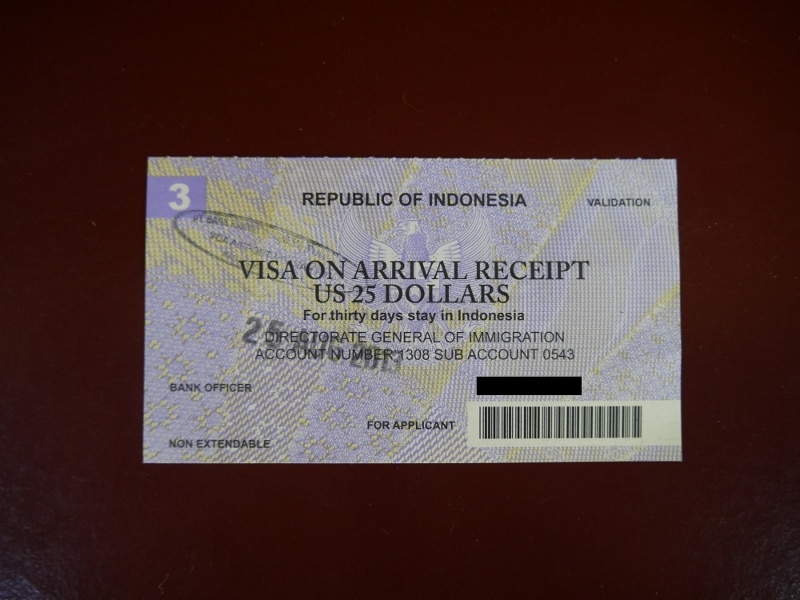 Once you have your receipt, you need to head for the immigration desks, and they'll issue you with your visa on arrival, which allows you to stay in Indonesia for 30 days.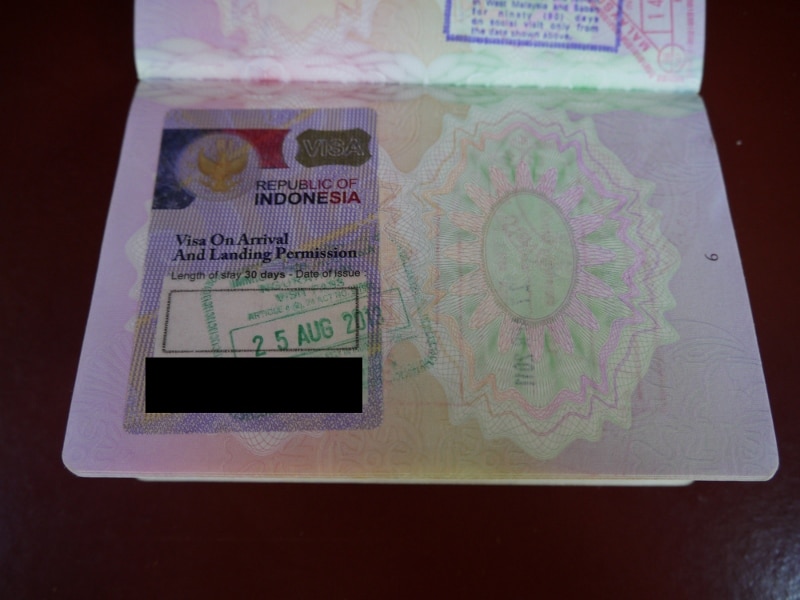 Once you're through immigration, which only took us 2-3 minutes, you'll see quite a few ATM machines to your right.
This is a good chance to get some local currency. When we took money out, we only got 100,000 IDR notes, which is currently around $7. If you want to tip the taxi driver, I suggest you buy something at one of the shops so that you have some smaller change.
Next you need to pass through customs, where you'll need to hand in your customs form that you should have been given on the plane.
After that you'll head past around 20 currency exchange booths. The rates on offer were worse than what we saw when we eventually arrived in Ubud, so you've been forewarned.
Airport Transportation to Ubud, Bali
Next is the main arrivals hall, which this is where your diver will be waiting for you if you booked one. If you haven't, just walk out of the main entrance and turn right. You'll see lots of taxi drivers in colorful blue shirts.
You're looking for the official taxi office desk. Tell them your destination and pay the fixed fare and they'll give you a receipt you'll take to the taxi driver. We paid 300,000 IDR (US$21) to go to Ubud. We had been told that it would be 195,000 IDR, so I'm not sure if we overpaid. Of course, pricing could change by the time you read this as well.
We paid 300,000 IDR (US$21) to go to Ubud.
It's about an hour's drive from the airport to Ubud. Make sure you have your hotel address and phone number with you. The taxi drivers aren't from Ubud, so may not know exactly where some of the smaller hotels and guest houses are. We stayed at the Arjuna House in Ubud and our driver had to phone the guest house for directions.
From landing, to getting through immigration, collecting our luggage and getting a taxi only took about 10-15 minutes. Crazy fast.
UPDATE: From Ubud to Denpasar (including the airport) you can get a bus to the airport for 60,000 IDR ($4.25). The owners of our guest house offered to take us for 150,000 IDR ($10.50), so we took that option, as we would have needed to get a taxi from the bus station to our hotel. It makes me feel like I paid way too much to get from the airport to Ubud. If you already have a hotel booked, I suggest calling them and asking if they'll pick you up, as it may be a lot cheaper.
If you'd like more information and pictures on our recommended hotel in Ubud, Bali, read my review of Arjuna House in Bali.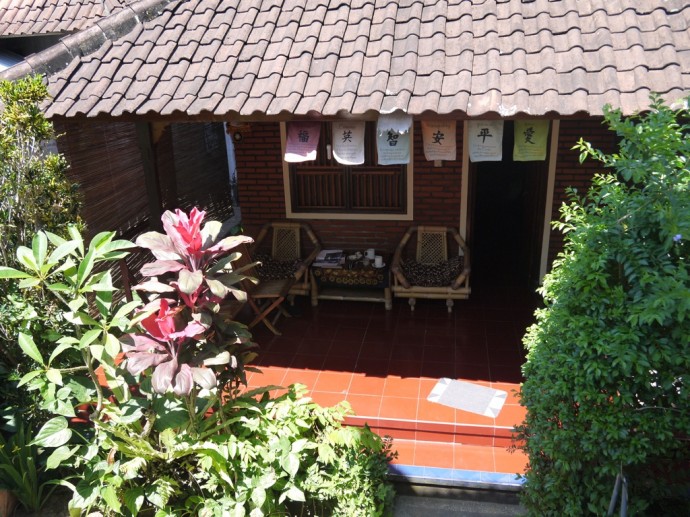 ---
More Information on Ubud, Bali
---