Many of Bangkok's best attractions are situated right alongside the magnificent Chao Phraya River. The riverside is a great place to stay while in Traveling to Bangkok, and traveling by boat is one of the best ways to get around the city. It's most definitely my favorite form of transport in Bangkok. For a comprehensive guide to getting around by river boat, see Bangkok's Chao Phraya River Boat Routes. For great hotels along the Chao Phraya River, see Bangkok's Best Riverside Hotels.
I think you'll be surprised at just how many attractions there are along the river. So let's get started. I've ordered these starting at Asiatique in the south, all the way to Thewet Market in the north. Hopefully this will make it easier for you to get to all the attractions in an orderly way.
Asiatique The Riverfront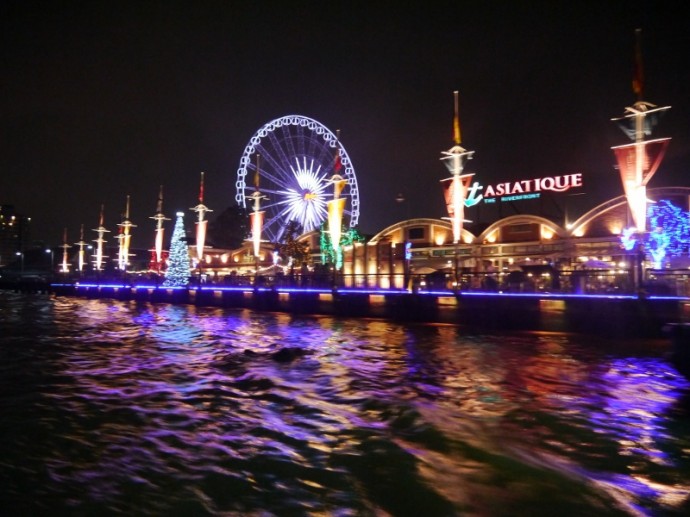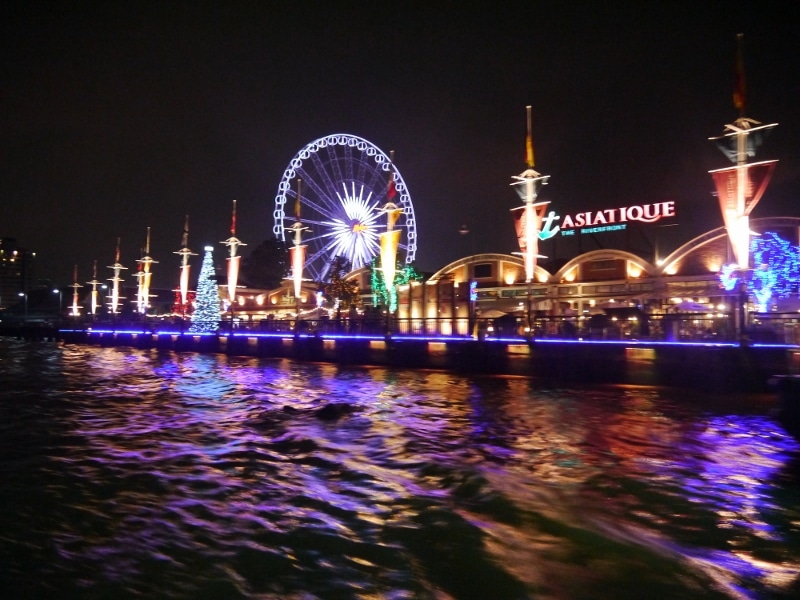 Asiatique The Riverfront is one of Bangkok's newest shopping areas, and is situated right next to the Chao Phraya River. They also have a Sky Wheel that gives great views of Bangkok. It's just a short taxi ride from Saphan Taksin BTS station, or a few minutes by boat. Free boats run from Sathorn Central Pier every day from 16:00 until 23:30. Asiatique is open from 17:00 until midnight every day. See Asiatique The Riverfront for further details.
Nearest Pier: Asiatique The Waterfront
Holy Rosary Church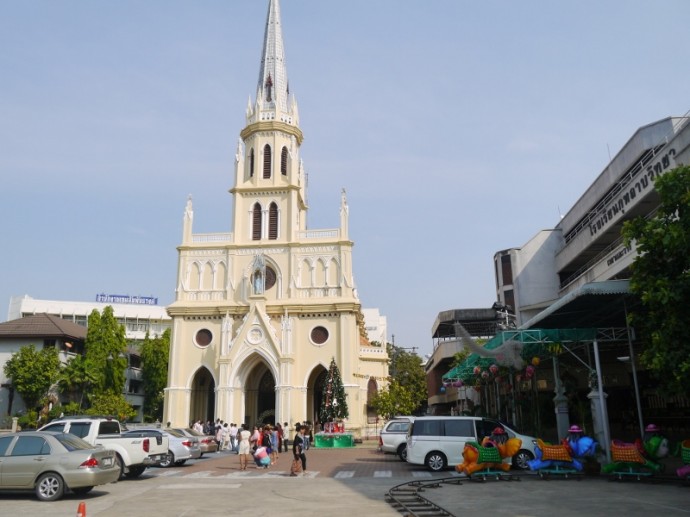 Holy Rosary Church was built in 1787 by Portuguese seafarers. It's a Roman Catholic church that is known as Wat Kalawan in Thai. It's open to the public from 08:00 until 19:30 on Monday through Saturday, and 08:00 until 12:00 on Sundays.
River City Shopping Mall is nearby, and this is where you can see Bangkok's famous shark. The nearest hotel is Royal Orchid Sheraton, one of Bangkok's many 5-star hotels.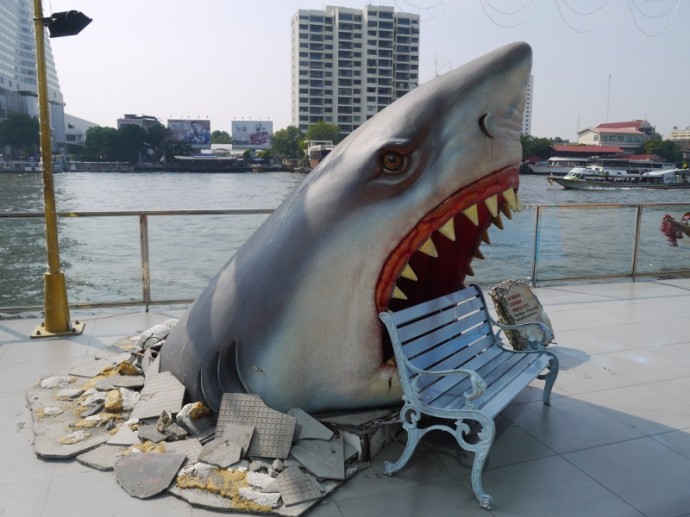 Nearest Pier: N4 (Marine Department)
Chinatown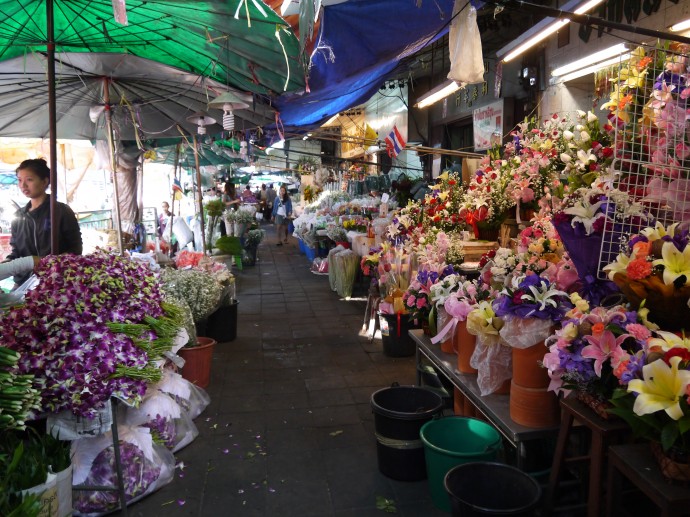 I love visiting Bangkok's Chinatown, as there is so much to see and do there. If you want to see what Bangkok was like in years gone by, then this is the place to visit. It's a very busy area, with goods spilling out of the shops on the pavements. It's also very popular in the evenings when all the street food stalls set up. People come from all over Bangkok just to eat here. A visit to Pak Khlong Market is highly recommended. You could spend a whole day, or more, just exploring this area. I've been numerous times, and still discover things I haven't seen.
Nearest Pier: N5 (Rajchawongse), N6 (Memorial Bridge) & N7 (Rajinee) – Get off at N5 for main part of Chinatown and N7 for the vegetable and flower market (Pak Khlong Market)
Santa Cruz Church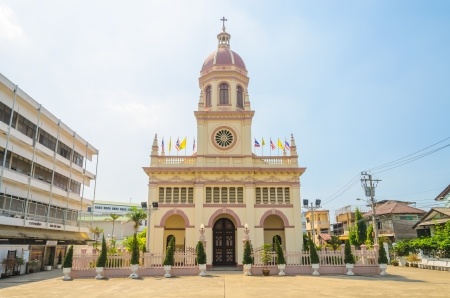 Santa Cruz Church is a Portuguese Roman Catholic church that was originally built in the 1700s. It has been rebuilt many times since, with the current church dating back to 1916. It's open every day and entry is free.
Nearest Pier: N7 (Rajinee) – then take cross-river ferry to the church
Temple Of The Reclining Buddha (Wat Pho)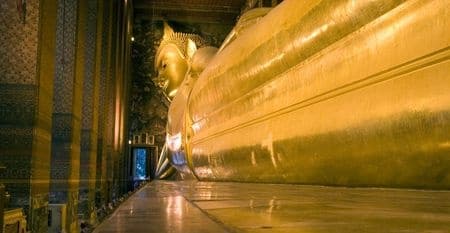 The Temple of the Reclining Buddha is on the must-see list of most first-time visitors to Bangkok. It's one of Bangkok's largest temples, and is famous for the 46-meter long reclining Buddha that's covered in gold leaf. This is also a great place to get a traditional Thai massage, as Wat Pho is considered to be Thailand's top massage school. The temple is open every day from 08:00 until 17:00, and the entrance fee is 100 baht ($3.35). The Grand Palace is about 10 minutes' walk from here.
Nearest Pier: N8 (Tha Tien)
Temple Of Dawn (Wat Arun)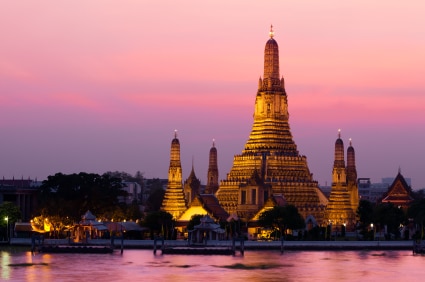 This is one of Thailand's most stunning temples, and many people will have seen images of it even before arriving in Thailand. It looks great in the daytime, but even better at night. It's on the other side of the river from Wat Pho, so you'll need to take the cross-river ferry that costs 3 baht ($0.10). The temple is open every day from 08:30 until 17:30, and the entrance fee is 100 baht ($3.35). You can also climb to the top, but the steps are very steep so only attempt this is you're fit and able and not frightened of heights.
Nearest Pier: N8 (Tha Tien) – then take the cross-river ferry to Wat Arun
Grand Palace & Temple Of The Emerald Buddha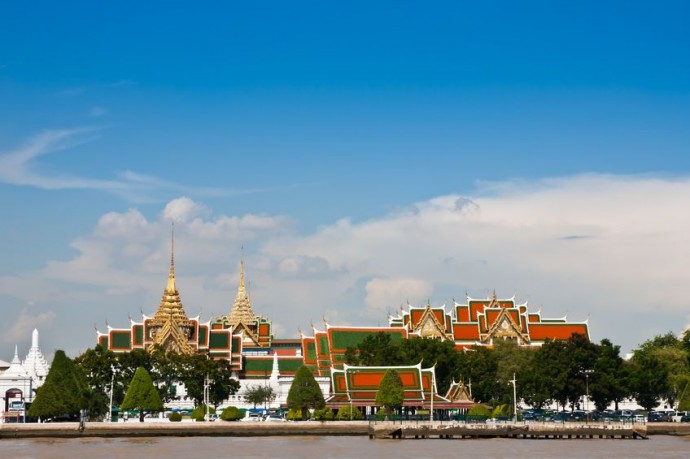 The Grand Palace is one of Bangkok's most famous landmarks and is always on the must-see list of first-time visitors. It was built in 1872 and was originally the home of the Thai king. The Temple of the Emerald Buddha is in the grounds of the Grand Palace. This is one of Thailand's most sacred sites, so strict dress codes apply. Men must wear long trousers and long-sleeved shirts. If wearing flip flops, socks must also be worn, as no bare feet are allowed. Women should be similarly covered up. The Grand Palace is open from 08:30 until 15:30 every day. Entrance fee is 400 baht ($13). You can also visit weird and quirky Thailand temples if it peeks your interest.
Nearest Pier: N9 (Tha Chang) – if you get off at pier N8 for Wat Pho, you can walk to the Grand Palace from there – it's about 10 minutes' walk.
Forensic Medicine Museum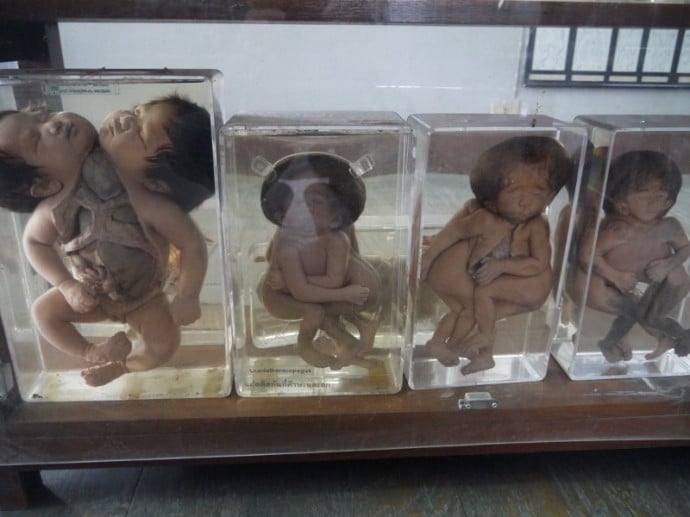 The Forensic Medicine Museum will probably be different from any museum you've ever seen. For me, this is one of Bangkok's premier museums. You can read a full review of this museum at Forensic Medicine Museum. It's open from 10:00 until 17:00 every day except Tuesday. The Anatomical Museum and Prehistoric Museum, which are both part of this museum complex, are also closed on Saturdays and Sundays. Entrance fee is 300 baht ($10). Leave the pier, turn right into Siriraj Hospital and then follow the signs for the museum.
Nearest Pier: N10 (Wang Lang)
Thonburi Train Station (For River Kwai Bridge)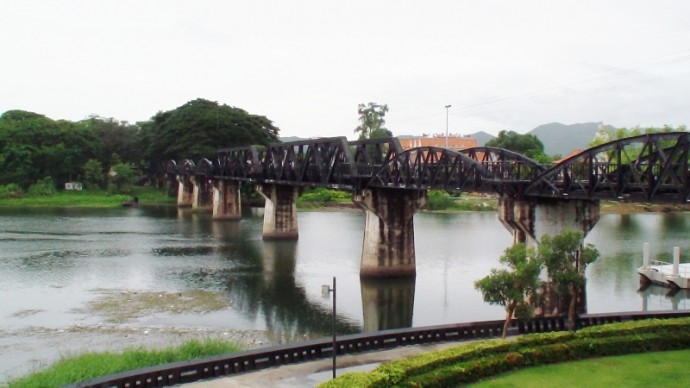 Thonburi train station is about a 3-5 minute taxi ride from the pier. This is where you can get he train to River Kwai Bridge. See Bangkok to River Kwai Bridge for train times and more.
Nearest Pier: N10 (Wang Lang)
National Museum of Royal Barges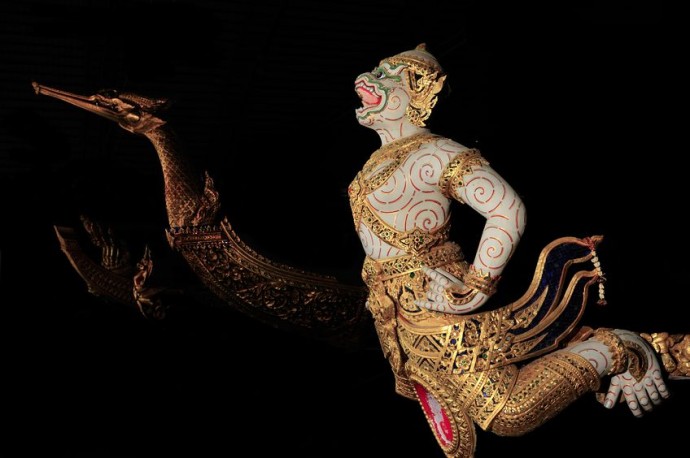 The Royal Barges are reserved for special occasions such as the Royal Barge Procession, so they are rarely seen on the river. The museum has eight barges on display, with each one being truly magnificent. The barges are carved from huge pieces of teak, and the design of each one is very intricate.
Nearest Pier: N12 (Phra Pin Klao Bridge)
Rattanakosin Island & 
Khao San Road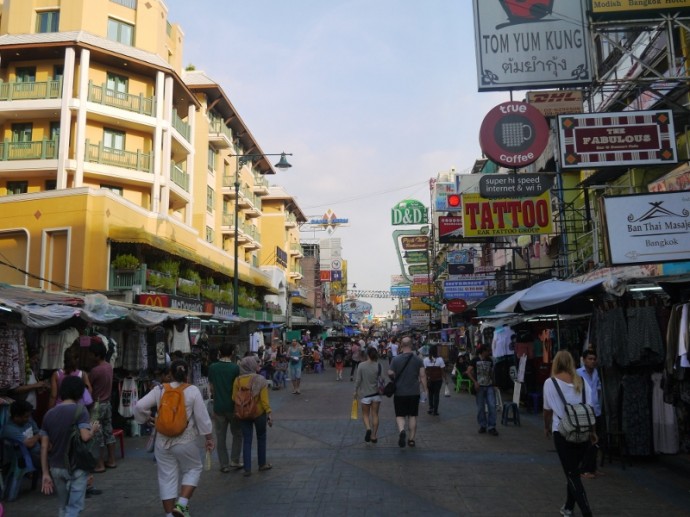 Rattanakosin Island is where you'll find Bangkok's oldest and most revered buildings. This is the old city at its best, and is where you'll find the Grand Palace, Wat Pho and other attractions. Nearby is the bustling backpacker district centered around Khao San Road. If you like to party, then Khao San Road is the place to head to. See Khao San Road for further details.
Nearest Pier: N13 (Phra Arthit)
Thewet Market
Thewet Market is one of Bangkok's premier flower and plant markets, but also sells fish and vegetables. It's only a short walk from the pier and well worth a visit.
Nearest Pier: N15 (Thewet)
Hotels In Bangkok
If you're planning to visit Bangkok, then don't forget to book your hotel via Agoda.